Laundry App Development: Effortless Laundry Solutions
In our fast-paced lives, laundry apps have revolutionized how we manage our laundry responsibilities by offering a practical and effective answer. We can now outsource our washing needs with a few taps on our smartphones, saving time and effort. This introduction investigates the essential elements of laundry app creation, revealing the advantages and factors to be taken into account while developing software that simplifies laundry management for contemporary customers.
Prepare to enter a new era of hassle-free washing thanks to the power of technology.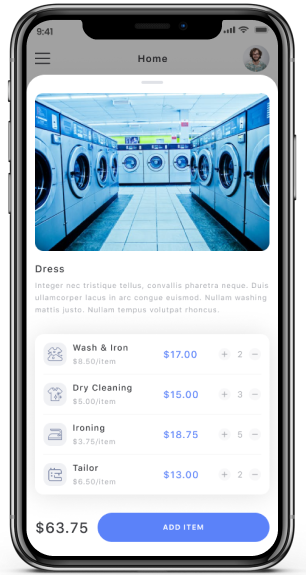 We can help! Our app development services have helped build strong brands very similar to Cleanly, Laundrapp, Washio & FlyCleaners.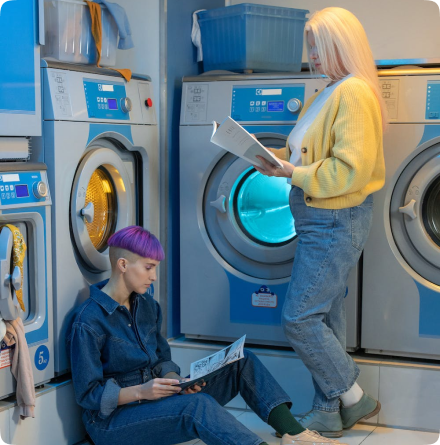 Powerful Features: Transforming Your Laundry Experience
Our laundry app development services offer a comprehensive range of features that can transform the way you manage laundry tasks. Benefit from convenient scheduling options, personalized preferences for detergent and fabric treatment, secure payment gateways, real-time order tracking, and professional laundry care.
With our expertise in developing laundry apps, we ensure a seamless and efficient user experience, enabling you to streamline your laundry management. Embrace the power of our laundry app development solutions and take your laundry business to new heights.
How do our Laundry App Development Works?
Simplifying Laundry Management with Our App
Discover how our user-friendly app simplifies the process of managing your laundry tasks effortlessly. By taking these 7 easy steps, you can embark on a flawless trip:
Download and Install: Begin by downloading and installing our transportation app from your device's app store.
Sign Up or Log In: Create your account by providing the necessary details, or if you're already a user, simply log in using your existing credentials.
Schedule Pickup: Specify the desired date and time for our team to collect your laundry from your preferred location, be it your home or workplace.
Track Progress: Stay updated on the status of your laundry order with real-time notifications within the app. From washing to drying,
you'll know exactly where your laundry stands.
Make Payment: Conveniently complete your payment through our secure gateway, offering multiple payment options to suit your preferences.
Enjoy Delivery: Once your laundry is cleaned and ready, our team will promptly deliver it back to your chosen location. Experience
the delight of fresh, neatly folded clothes without any hassle.
Discover the ultimate convenience and efficiency in managing your laundry with our app. Take the first step towards simplifying
your laundry routine by downloading our app now and following these easy steps.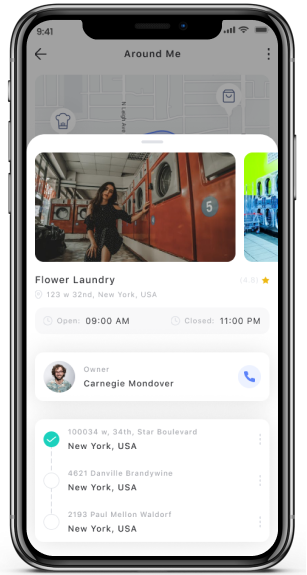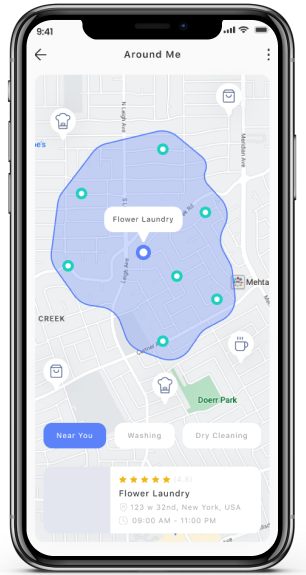 Discover the Powerful Features of Our Laundry App
Revolutionizing Laundry Management: Unveiling Our Cutting-Edge Mobile App Features
Introducing our revolutionary mobile app that redefines the way you manage your laundry. Packed with advanced features, our app simplifies your
laundry routine like never before. Here are the features :
Smooth User Experience: Immerse yourself in a seamless and user-friendly interface that simplifies your laundry management.
Navigate effortlessly through our app's features and functionalities with utmost ease.
Schedule Management: Take control of your laundry schedule with our app's flexible and convenient options. Easily schedule
pickups and deliveries to fit your busy lifestyle and personal preferences.
Customized Preferences: Personalize your laundry experience with ease. Specify your preferred detergent, fabric softener,
water temperature, and more to ensure tailored care for each garment.
Real-Time Order Tracking: Stay informed every step of the way. Track the progress of your laundry order in real-time,
from pickup to delivery. Our app provides live updates, giving you peace of mind.
Secure Payment Options: Rest assured with our secure payment methods. Choose from a range of reliable options that
prioritize the security of your financial transactions.
Special Instructions: Communicate any specific instructions or garment preferences directly through the app.
From delicate fabrics to stain treatments and folding preferences, our app caters to your unique requirements.
Prompt Customer Support: We value your satisfaction and provide dedicated customer support. Our team is ready to assist you,
ensuring a smooth and delightful laundry management experience.
Experience the future of laundry management with our innovative mobile app. Download it today and unlock the convenience, customization, and efficiency that our app brings to your laundry routine.
Efficient Management Made Easy: Unveiling the Feature-Packed Admin Panel
Empowering Laundry Management: Unveiling Admin Panel Features
Introducing our comprehensive admin panel designed to empower laundry businesses like yours.
Our feature-rich admin panel equips you with the tools and capabilities needed to streamline your laundry operations and deliver exceptional service.
Let's explore the powerful features that make our admin panel stand out:
Dashboard Overview: Gain valuable insights at a glance with our intuitive dashboard. Monitor key metrics, track order status, and evaluate
performance to make informed decisions.
Order Management: Seamlessly handle incoming orders from pickup to delivery. Assign tasks, track progress, and ensure timely
fulfillment for a smooth customer experience.
Staff Management: Efficiently manage your laundry staff through our admin panel. Assign roles, track attendance, and monitor performance
to optimize productivity and workforce management.
Inventory Management: Take control of your laundry supplies and inventory with ease. Track stock levels, manage reordering,
and ensure uninterrupted operations for seamless service.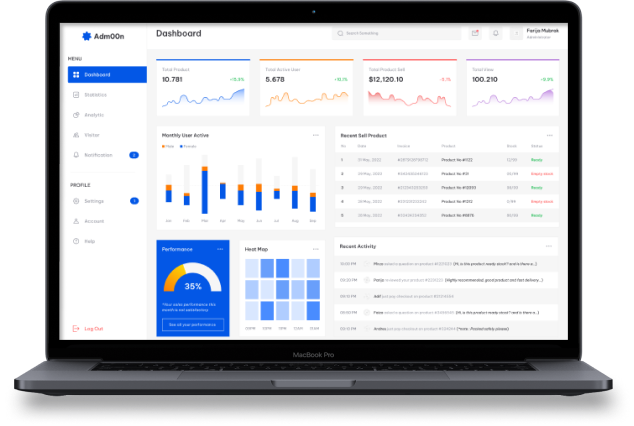 Reporting and Analytics: Access valuable data-driven insights to drive your business forward. Generate detailed reports on order volume,
revenue, customer feedback, and more to identify trends and make informed decisions.
Customer Management: Effectively manage customer profiles and interactions. Handle customer queries, resolve issues promptly,
and maintain a database for personalized service and enhanced customer satisfaction.
Promotions and Discounts: Create and manage promotional offers and discounts effortlessly. Attract new customers, retain existing ones,
and drive revenue growth with targeted marketing campaigns.
Unlock the full potential of your laundry business with our powerful admin panel features. Simplify operations, enhance efficiency,
and elevate your customer service. Experience the ease and effectiveness of our admin panel in transforming your laundry management.

1. Requirement Gathering 2. Unleashing Creative Design3. Wireframing and Prototyping 4. Development and Testing 5. User Experience Enhancement 6. Integration and Backend Development7. Deployment and Launch
Our Development Process: Bringing Your Vision to Life
At NextPage, we follow a structured and efficient development process to ensure the successful creation of your laundry app. Here's an overview of our step-by-step approach:

Requirement Gathering:
Our team conducts in-depth discussions with you to understand your specific needs and requirements for the laundry app.

Development and Testing:
Our skilled developers bring the design to life, coding and implementing the features and functionalities of the laundry app. Rigorous testing ensures a high-quality and bug-free application.

Unleashing Creative Design:
Our collaborative approach allows us to unleash our creativity and work closely with you to develop a design concept that is both unique and captivating.

User Experience Enhancement:
We prioritize user experience by refining the app's usability, navigation, and performance to provide a seamless and delightful experience for your users.

Deployment and Launch:
Our team ensures a smooth deployment process, launching the app on the respective app stores and assisting with the necessary steps for a successful launch.

Wireframing and Prototyping:
We develop detailed wireframes and interactive prototypes to visualize the app's layout, user interface, and functionality before proceeding with development.

Integration and Backend Development:
We integrate essential features, such as payment gateways, order management systems, and database connectivity, ensuring smooth backend operations.
Experience a streamlined and well-structured development journey with our meticulous process. Let NextPage transform your vision into a feature-rich and user-friendly laundry app that exceeds your expectations.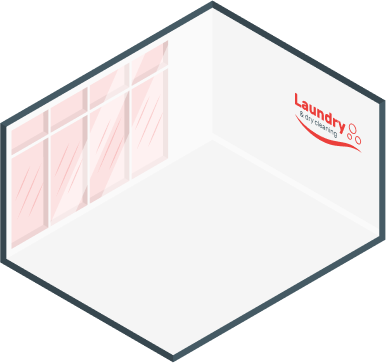 Why Choose Us: Making the Right Decision for Your Laundry App
Discover the NextPage advantage as we provide unparalleled expertise and dedication in developing your laundry app. Here are seven compelling reasons to choose us:
Proven Track Record: With a solid track record of successfully delivering laundry apps, we have the experience and expertise to bring your vision to life.
Skilled Team of Professionals: Our team consists of skilled professionals who are passionate about app development and dedicated
to delivering exceptional results.
Customized Solutions: We understand that every laundry app is unique. We tailor our solutions to meet your specific requirements,
ensuring a personalized and customized app.
Cutting-Edge Technologies: We stay updated with the latest technologies and trends in app development,
allowing us to incorporate cutting-edge features and functionalities into your app.
User-Centric Approach: Our goal is to make the user experience smooth and simple. We prioritize user-centric design
and functionality to ensure high user satisfaction.
Quality and Reliability: We adhere to stringent quality standards throughout the development process,
ensuring a reliable and robust laundry app.
Timely Delivery and Support: We value your time and strive to deliver your laundry app within the agreed-upon timeframe.
Additionally, we provide ongoing support and assistance even after the app is launched.
Choose NextPage for your laundry app development needs and unlock the advantage. With our knowledge, devotion, and attention to perfection, we guarantee the success of your app and give your users a seamless and effortless laundry management experience.
.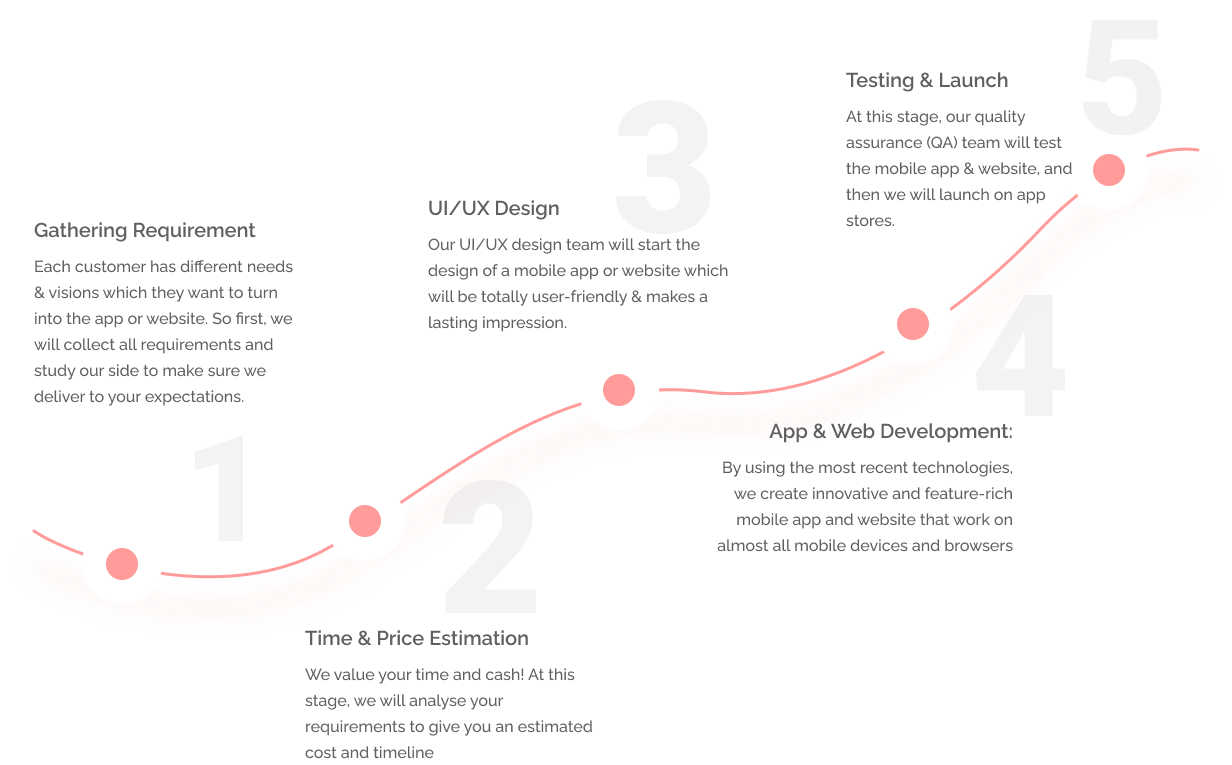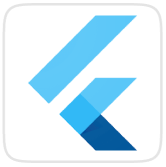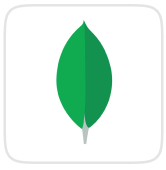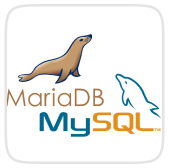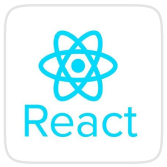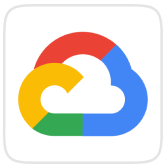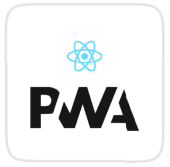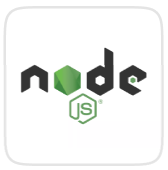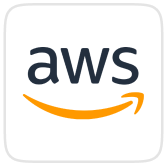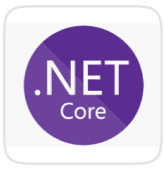 Next Steps
Get in touch with our team to discuss your requirement and we can help plan the process and help get started!